Due to consistent scamming, this scammer has been banned! Regardless, if you have proof that this scammer has returned through third-party programs or have an alternate account, make sure to report that account to AJHQ and report them here along with your proof. Stay safe, jammers!
About
091tiger190 used to scam using the Cross Trade Scam. They would ask someone to trade their Animal Jam item for their Play Wild Item and talk to them in a nice and sweet way to gain their trust. After they gain someone's trust, they will ask them to go first when trading the items but not trade them their items, basically, they've been scammed.
Items Scammed
Proof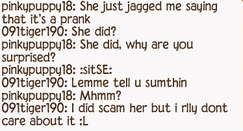 Community content is available under
CC-BY-SA
unless otherwise noted.