| | |
| --- | --- |
| | This scammer is currently inactive and is not scamming. If this user has become active, please alert a staff member, or update the page. Please ensure you have evidence. |
| | |
| --- | --- |
| | This scammer is suspected to have multiple accounts and spares. It is likely that these spares will be used as an aid in their scamming, so if an account seems to be helping this scammer, please collect evidence and report them, both here and in-game. |

This user is suspected to have stopped scamming and/or has apologized. This page will not be taken down yet for reasons. However, if you see this person trying to scam/hack again, please report them and notify a staff member or update the page.
Note: Cheesequeenn is an inactive Animal Jam Scammer who switched to another account named Shelzy and currently hasn't scammed.
About
Cheesequeenn used the Trust Trading method to scam others. They toll them to go first. Cheese then made up an excuse to leave, not completing the trade. Their Youtube channel is here. Cheesequenn was a big scammer in 2018. They recently switched to Shelzy, but it is suspected they have stopped scamming. Even though they have made posts on Instagram saying that they stopped but still continued but then gave up scamming and now makes trading proofs. This scammer is now inactive.
Items Scammed
Appearing In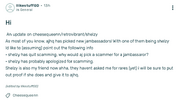 Other Accounts