Template:Active Scammer
| | |
| --- | --- |
| | This scammer is suspected to have multiple accounts and spares. It is likely that these spares will be used as an aid in their scamming, so if an account seems to be helping this scammer, please collect evidence and report them, both here and in-game. |

This page is lacking information and/or evidence. If you know anything about this scammer, please add the correct information accordingly, or ask a staff member to add it. If the page is locked, please ask a content mod, admin, or bureaucrat to unlock it. Please note that this does not always mean the page is lacking proof.
About
Note: This Jammer is Suspected to have either left the game for good, or permanently moved to a different account. If you see someone acting or behaving like the listed below, be sure to record the information and put it on the wiki.
Djokovic8 was a scammer/worth manipulator who has attempted to scam dozens of jammers on Animal Jam Play Wild. Djokovic8 tried to convince their victim that their very valuable item is worth very little or nothing. Another one of Djokovic8's methods was to trick jammers into thinking his worthless item is worth a lot.
During one attempt, he was trying to scam a rare variant of the rare Wildworks hat. Although it is worth a lot, Djokovic8 continued to say that his under trade was fair.
Items Scammed
Purple Rare Archer Hat
Blue Rare Furry Arm Cuffs (Possibly)
Default Rare Flapper Hat
Blue Rare Bowtie
Possibly more
Rare Sugar Glider
Proof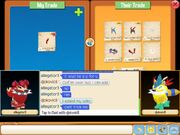 Cite error: Invalid <ref> tag; refs with no name must have content I buddied DJ and tricked it into thinking they were my friend and I supported their scamming, which of course I didn't and I went undercover and gathered up information like this: He told me the story of the time they scammed purple archer hat. Look at these images for proof.