This scam is similar to the Fashion Show Item Scam and the Giveaway Wheel Scam.
About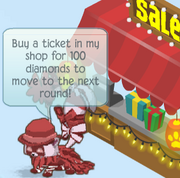 A scammer will host a fashion show that appears normal, until they require rares or diamonds for users to participate. This is usually only effective if the promised prize is large.
The host may require payment in rare items or diamonds to join the show in the first place, or payment will be introduced later. A fashion show may proceed as normal, until the host requires you to pay to continue or you lose your place. This may occur when the fashion show is nearly over.
The host will claim that gifting or buying from them boosts your chances at winning the show. They may even promise to return the items, but this is essentially Trust, which is always a scam.
How to avoid this scam
Do not participate in fashion shows that require payment. If someone was generous enough to host a fashion show with a large prize, they would not need to take items from other players. Therefore, all similar fashion shows are scams.
Community content is available under
CC-BY-SA
unless otherwise noted.