This scam is related to the Item Worth Scam.
About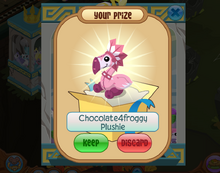 Many Jambassador Plushies are very rare. However, some of the Jambassadors decided to put their plushies in claw machines so everyone could have them.
These include Chocolate4froggy (Flamingo), CupCakeCeline (Bunny), WisteriaMoon (Wolf), and Pugfluff (Otter). Any Jambassador could decide to put their plushie in a claw at any time. Claw plushies aren't worth anything more than rims, since they can be won in the Flamingo, Bunny, Wolf, and Otter Claw. Jammers may get scammed if they do not understand the correct worths of these items, and may trade as much as a jammer would for a rarer plushie such as Bepper, Cinno, Ellipsity, or Awesomeisme1233.
How to avoid this scam
Don't trade anything valuable for the listed plushies, or any Jambassador Plushies at all, unless they've confirmed that their plushie isn't going to be put in a claw. Keep in mind that a Jambassador could suddenly decide to put their plushie in a claw whenever they want to.
Community content is available under
CC-BY-SA
unless otherwise noted.