Due to consistent scamming, this scammer has been banned! Regardless, if you have proof that this scammer has returned through third-party programs or have an alternate account, make sure to report that account to AJHQ and report them here along with your proof. Stay safe, jammers!
About
Ladyteelia is a banned non-member scammer. She has attempted to scam many times and has scammed a Purple Long Spiked Collar before using the Trust Giveaway Scam.
She tries to relate to jammers by guilt tripping victims to make people trust her with their items, an example being that she asks participants how their day was before beginning the scam.
It is possible that this scammer is trying to impersonate a popular YouTuber and author of Strong Hearts Are Mandatory with the same name, linked here.
Items Scammed
Purple Long Spiked Collar
Orange Long Spiked Collar
Possibly more
Proof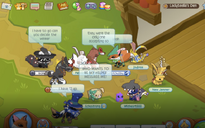 Community content is available under
CC-BY-SA
unless otherwise noted.