About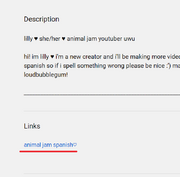 A user will usually come to your den and ask you to record something in an AJ server in a different language. (They may offer rare items.) They direct you to a YouTube channel (such as Reflecting AJ, Spikelord AJ, Yarrow AJ, xSoftEchoes) with a link they claim is the way to access Animal Jam in a different language. However, it's a hack link that both steals your AJ account information and IP Address.
How To Avoid This Scam
Don't click links shown to you by people you don't know, especially if they're unfamiliar. Anything Animal Jam wants you to access can be accessed through the official site.
If someone comes to your den and says something similar to what's described in the About section, report them and get proof to warn others instead of doing what they say.
Community content is available under
CC-BY-SA
unless otherwise noted.