This scammer is also a hacker, meaning that they have violated one of Animal Jam's most serious rules and are a potential danger to the accounts of the Animal Jam community. Please report and block this user for safety issues, and regardless of any situation, make sure to stay clear of them.

This scammer is currently inactive and is not scamming. If this user has become active, please alert a staff member, or update the page. Please ensure you have evidence.

This scammer is suspected to have multiple accounts and spares. It is likely that these spares will be used as an aid in their scamming, so if an account seems to be helping this scammer, please collect evidence and report them, both here and in-game.
About
Nalawolfie is a major scammer and hacker on AJPW. A former YouTuber, she used her fans and her buddies for rares. She has hacked at least 3 raccoon tails, an archer hat, and many other items. She made a fake item generator video that asked for passwords and parents' emails in exchange for free rares. She scammed Lunaw0lfie's red Dragon Wings in a trust trade. She also hosted a fake red DJ Headset giveaway.
As of July 2019, she has deleted her YouTube account.
Proof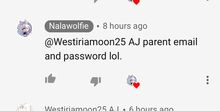 Items Scammed
Alpha Armor
Lavender Curls
Teal RC
Red Dragon Wings
Possibly More
Community content is available under
CC-BY-SA
unless otherwise noted.