This scammer is currently active and possibly still scamming. Please report this user for scamming and safety issues, and if you have proof that they have scammed more than what we have stated, it would be appreciated if you could provide it here; otherwise, stay clear of this jammer.
This scammer is suspected to have multiple accounts and spares. It is likely that these spares will be used as an aid in their scamming, so if an account seems to be helping this scammer, please collect evidence and report them, both here and in-game.
About
Snugglebunny72 is an active Animal Jam scammer that uses the Trust Method to scam others. She usually does her giveaways in a few rounds. Jamagramming her would always be one of the rounds, and Trust at the end. She usually avoids the subject of the giveaway until the very end. And in her most recent giveaway, a jammer called Animaljamrocksloveit6 got scammed. It is unknown whether she has any other accounts, but it is possible that she actually does have a main since she has such little achievements. Four to be precise. She later confessed to someone that she did attempt to scam, and her friend told her to scam. The name and username of her friend are still unknown.
Items Scammed
Purple Candy Cane Socks
Beta Walls
Black Short (Suspected)
Possibly more items
Proof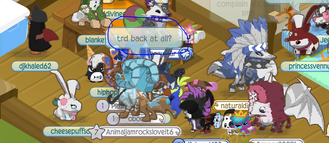 Community content is available under
CC-BY-SA
unless otherwise noted.