Beware of this user, for they are a RoseWolf. They could be planning to yeet a Flowercrown at you right now. You must be wary of this user, and report them to the RoseWolf Watchers of this wiki. Keep your rare Non-member items safe from this RoseWolf. You have been warned.

This user is a big fat bully. And that bully will possibly punch you. In order to talk to them, you must proceed to their message wall with caution. Sneak around like a stalker, and post a message in their wall. Other than that, you may tell the Bully Watchers about this bully. You may look at their posts to learn about their behaviour and what to do when you've come across them.

Beware of this user, for they are a stalker. They may be stalking your message wall right now. You must be wary of this user, and report them to the Stalker Watchers of this Wiki. Keep your message wall safe from this stalker. You have been warned.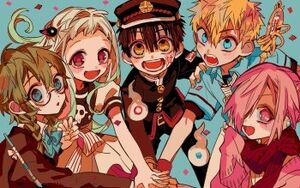 XBakedPotatox is a Content Mod and Chat Mod. She can rollback pages, help users with pages, and more. Her username on AJ is:
Youarecute64 (Apologies for my user)
She wants you to know you are awesome in your own way.
Facts/Trivia
I don't actually live in Japan, although I want to go there.
I love anime, if you couldn't tell.
I would like to be called : Potato, BakedPotato, or Baked.
I have a favorite anime, Fruits Basket.
I have a hobby of drawing.
I have my own joke group called "Spicy Potatoes."
I am pro stalker >:)
Pls follow my friend
Anime Likes/Want to Watch
(Some of these shows I watch are for older audiences!)
Demon Slayer : Kimetsu No Yaiba
Fruits Basket
Miss Kobayashi's Dragon Maid
Hunter X Hunter
Tokyo Ghoul
My Hero Academia
Monthly Girls' : Nozaki-kun
Himouto! Umaru-chan
What I want to watch..
Bungo Stray Dogs
Re:Zero - Starting Life in another World
Rent-A-Girlfriend
Kakegurui
Fairy Tail
Haikyu!!
Death Note
Angel Beats
Spicy Potato Crew (AKA People I know on this wiki)
Userboxes
Community content is available under
CC-BY-SA
unless otherwise noted.